Computer imaging is essential in our Profiles practice in helping our patients articulate their goals for rhinoplasty surgery and for us to communicate what can or cannot be accomplished with surgery. It is not just about drawing a picture of a good-looking nose.
Images: A Vital Tool To Achieve Desired Aesthetics
For us, it is about accurately showing how each proposed change in surgery will indeed affect every other aspect of the nose. Therefore, we must be honest, precise, and authentic in our imaging. For that reason, we do not over-image but, instead, image a change that we know we can deliver.
As a result, we are not only comfortable sending our patients their images before surgery; we use these images as a vital tool to facilitate conversation during the final pre-op visit to make sure that we understand entirely the desired aesthetic. And then, we do not deviate from this aesthetic during surgery.
Predicting Final Results Through Image Simulation
We have compiled images of several patients to give you an idea of how closely the imaged result can predict the outcome. In these images, you will see:
The Before Unimaged photo on the left,
The Before Imaged photo in the middle
The one-year After photo is on the right.
This patient suffered a severely twisted and collapsed nose resulting from prior surgery. The goal was to achieve a smooth, natural nose that corrected the scoop, over-projection, nostril retraction, and hanging columella while restoring normal breathing. On a side note, the neck liposuction result was even better than predicted.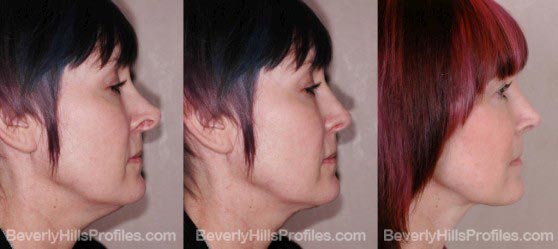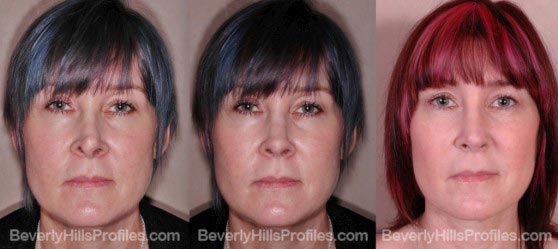 This young woman had undergone the previous rhinoplasty that left her with a wide, unrefined tip from the front view and a Polly beak-type fullness above the tip on the profile view. Our pre-op computer imaging (middle photos) showed tip and alar base narrowing and refinement and the creation of a straight profile. This was readily accomplished with revision rhinoplasty surgery, as seen in these one-year After photos on the right.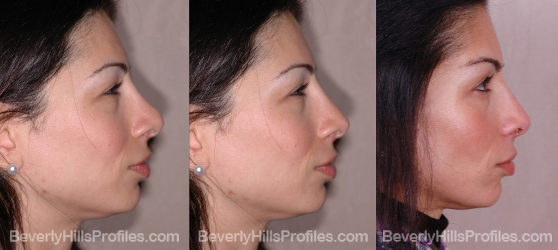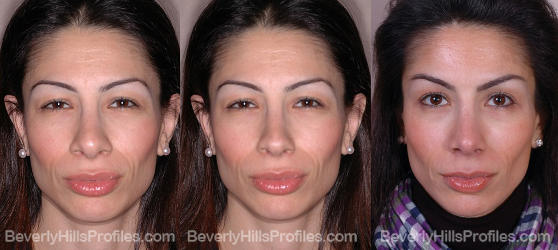 Demonstrating the comparison of simulated surgical results done pre-operatively with actual rhinoplasty results obtained over one year after surgery. This already beautiful young woman wanted her nose to better balance with her face through hump reduction, tip narrowing and refinement, deprojection, and correction of a hanging columella. In the After photos on the right, you can see how this sense of definition and balance was achieved while maintaining a beautiful, natural look.