Book a consultation now
Rhinoplasty Surgery at Profiles: Experience the Best
Written by Dr. Litner and Dr. Solieman 11/11/19
For over a decade, double board-certified surgeons Drs. Solieman and Litner have successfully operated on 250 rhinoplasty patients a year, making them one of the most experienced rhinoplasty surgeon teams in the world. Whether you are looking for your first surgery or need a revision procedure, we invite you to come and see why patients from all over the world choose the top surgeons at PROFILES Beverly Hills in Los Angeles.
If you are considering rhinoplasty or revision rhinoplasty, you have come to the right place. Our unique two-surgeon team specializes in natural, beautiful rhinoplasty results in LA. At PROFILES Beverly Hills, we care passionately about rhinoplasty and have made it the focus of our facial plastic surgery practice.
Before & After Photos
Click here to view more actual patient photos.
Why So Many Happy Patients Choose PROFILES Beverly Hills:
Two surgeons are better than one

Rhinoplasty and revision rhinoplasty are intricate, nuanced procedures where the difference between a fantastic result and the need for revision is often separated by millimeters. Having both double board-certified surgeons, Drs. Solieman and Litner, performing each step together is the reason we are one of the foremost rhinoplasty centers in the world.

Our results last

Our commitment to you begins with your first visit but it does not end there. Unlike breast augmentation and other procedures that may need to be redone or revised after years, we know that when rhinoplasty is done right, it stands the test of time. We follow all our patients both in the short term and long term to ensure that they not only get the nose they have always wanted but that it stays that way.

We stand behind our work

By working together, Drs. Litner and Solieman are able to consistently achieve some of the highest success rates in the world. However, should we find that your rhinoplasty result fell short of our imaging goals, we will offer a revision at no cost to you. That means no anesthesia cost, no surgery center cost, and no surgeon fees. This is the PROFILES Beverly Hills guarantee, something you will not find anywhere else in the world.

Our results speak for themselves

Feel free to browse through our various photo galleries. What you will find is that each patient has a look that is perfect for him or her. Here at PROFILES, there is no "cookie-cutter" surgery. Every procedure is uniquely and individually tailored for you. We have patients who come to us from all over the world with different skin types, different aesthetics, and different goals, and we work with each of them to accomplish the beautiful, natural look that is right for them.
What Our Patients Say About Us
Actual Patient - 6 Weeks After Nose Surgery (Results May Vary)
A Natural, Beautiful Nose That Works
As rhinoplasty and revision rhinoplasty surgeons, Drs. Solieman and Litner know that it is critical to recognize that nasal aesthetics and form cannot supersede function. In other words, we know that it would make no sense to give you an attractive nose that caused breathing problems. As a result, when you come to PROFILES Beverly Hills, you will find that we employ only proven surgical techniques that will achieve your desired aesthetic changes while allowing for long-term support and function.
Today, computer imaging is an enormous help in the exploration and dialogue between you and your surgeons. Utilizing the imaging system at our office in Los Angeles, Drs. Solieman and Litner can clearly define your present asymmetries and contour irregularities in order to show you a realistic view of what can be accomplished to balance your nose with your other facial features.
During the preoperative evaluations, Drs. Litner and Solieman will listen carefully as you voice your concerns regarding the changes you would like to see, in addition to what aspects of your nose you wish to remain the same. In other words, the exploration of your aesthetic goals is essential in planning your individualized surgery. For that reason, we do not rush through your consultation. You will find our atmosphere relaxing and non-intimidating so that you can make the best decision for you.
See What Our Patients Say
Actual Patient – 6 Weeks After Nose Surgery
(Results May Vary)

African American Rhinoplasty Patient
Experience (Results May Vary)

Rhinoplasty Beverly Hills Patient Diary
(Results May Vary)View all of her patient diary videos
Rhinoplasty at Profiles: Our Modern Rhinoplasty Philosophy
A good choice for a Rhinoplasty Surgeon, at the very minimum, should be appropriately credentialed in the specialty of Facial Plastic Surgery or General Plastic Surgery. That means that the surgeon has passed a minimum standard involving a record of training and a rigorous oral and written examination process. But, once that standard is met, there is unfortunately no one watching over the surgeon's shoulder while he operates.
Drs. Litner and Solieman know that they can be technically perfect, but if what is achieved is not considered by you to be aesthetically pleasing, surgery will be considered a failure. So rather than discussing an "ideal" nose, they recognize that they must discuss with you what your desires are rather than what any preconceived notions of beauty might be.
Today, computer imaging is an enormous help in the exploration and dialogue between you and your surgeons. Utilizing the imaging system at our office in Los Angeles, Drs. Solieman and Litner can clearly define your present asymmetries and contour irregularities, and will then show a realistic view of what can be accomplished to balance your nose with your other facial features.
During the preoperative evaluations, Drs. Litner and Solieman will both listen carefully to you as you voice your concerns, not only with respect to what you want changed, but also what you wish to remain the same. In other words, exploration of your aesthetic goal is essential in planning your individualized surgery. For that reason, we don't rush you out of the office. You'll find our atmosphere relaxing and non-intimidating so that you can make the best decision for you.
Click here to learn more.
A masculine nose is characterized by a profile with a strong, straight nasal dorsum. In approaching male rhinoplasty, Drs. Litner and Solieman have learned numerous lessons regarding male aesthetics by listening to the concerns of patients presenting for revision rhinoplasty previously done elsewhere.
Specifically, men present when there is scooping out of the nasal bridge, overrotation of the tip (tips that are turned up too much), excessive narrowing on frontal view, or a nose that has been excessively shortened. And so, Drs. Litner and Solieman approach the male patient conservatively in order to maintain a "strong masculine" aesthetic.
Click here to read more.
We are often asked to perform rhinoplasty in young adolescents. Nasal surgery on children has long been a focus of discussion in the medical literature. As experts in rhinoplasty and nasal surgery, at Profiles we believe that discussion regarding nasal surgery in children has to be divided between functional surgery and cosmetic rhinoplasty.
When dealing with children with functional problems, surgery such as septoplasty can be done as early as necessary in order to restore nasal function and to prevent the consequences that may arise due to misplaced anatomic structures. In these patients, extra care must be taken to preserve as many structural supports and as much septal continuity as possible in order to insure normal nasal growth. Click here to learn more.
Many of our older patients have "always wanted something done" and have now found motivation to have rhinoplasty secondary to a variety of circumstances including: newly acquired economic independence, nasal trauma, undesirable changes in appearance, or seeing a friend or family member having a surgical success. In general, our older patients are seeking refinement of the changes brought on by aging. By providing conservative and subtle changes, we are able to accomplish a natural look that provides a meaningful overall rejuvenation to the face. Click here to learn more.
Computer imaging is extremely important in our practice in helping our patients to articulate their goals for rhinoplasty surgery and for us to be able to communicate effectively what can or cannot be accomplished with surgery. It is not just about drawing a picture of a good-looking nose. For us, it is about being able to show accurately how each proposed change in surgery will truly affect every other aspect of the nose. It is critical for us that we are honest, precise, and real in our imaging. For that reason, we do not over-image but, instead, image a change that we know we can deliver. As a result, we are not only comfortable sending our patients their images before surgery; we use these images as a vital tool to facilitate conversation during the final pre-op visit to make sure that we completely understand the desired aesthetic. And then, we do not deviate from this aesthetic during surgery.
Ethnic Rhinoplasty
Cosmetic Rhinoplasty Techniques
Drs. Litner and Solieman are trained to perform your nasal surgery in either the "closed" or "open" technique. In the closed technique, they perform rhinoplasty from within the nose, concealing the incisions inside the nostrils. In other cases, an "open" procedure is warranted, especially in more complicated cases or when the nasal tip is the focus of the surgery.
Tip Narrowing and Refinement
Many patients are interested in rhinoplasty because they are unhappy with either how wide their nasal tip is (how bulbous it is) or how far it sticks out from their face (how over-projected the tip is). Drs. Solieman and Litner recognize that, while there are many nasal tip techniques involving modification of the nasal tip cartilages, with time certain techniques result in excessive narrowing or asymmetries of the nasal tip with or without attendant nasal dysfunction. Moreover, they know that one of the main reasons so many patients have revision rhinoplasty is because their first surgeon did not know how to safely make the nasal tip smaller (deproject the nose).
Having recognized early on that most patients want smaller noses, our Los Angeles doctors have researched and published extensively on the techniques that are safe and effective in accomplishing exactly that goal. Our techniques rely primarily on precise suture placement and tension control to create a natural-appearing and stable nasal tip contour. Other techniques that modify the cartilage itself always retain your cartilage strength to ensure predictable healing. So whether you are considering your first nose job or a revision, you should know that our powerful techniques can give you the smaller, refined tip you want
Most people have a hard time understanding nasal tip surgery. Removing a bump on the bridge is easier to understand. However, it is harder to wrap your head around how we make your tip smaller without removing a lot of cartilage and having it fall-in over time.
Many plastic surgeons are not comfortable working on the nose tip. For example, tip deprojection or bringing your tip closer to your face is one of the harder things to do in rhinoplasty. Many plastic surgeons tend to avoid significant changes to the tip in favor of making the nose smaller by concentrating on the bridge (sometimes a little too much). Therefore, one of the most common reasons both men and women want a revision nose job is that they think their tip is still too big.
Nasal hump reduction is one of the most commonly performed procedures in rhinoplasty. Surgical websites are full of patient photos, usually in profile view, with hump reductions. While they look dramatic, an impressive reduction in this view is one of the relatively simpler things to accomplish in rhinoplasty. When evaluating a surgeon's results, look for examples showing multiple views so that you get a better perspective of the overall outcome. As in life, what may look good from one vantage point may look different from another angle. At PROFILES Beverly Hills, Drs. Litner and Solieman specialize in removing unwanted bumps while retaining a natural, un-operated profile.
The complaint of nostrils being "too wide" is a problem that we frequently encounter among patients, and especially in certain ethnic groups. Alar base surgery, or "nostril narrowing, poses a unique set of difficulties. External incisions can be noticeable, especially if they are designed incorrectly. Most commonly, evidence of alar resection is noted as a teardrop or "Q" deformity in the base of the nostril. In others, the nasal base appears abnormal, as the smooth contour of the nasal sill has been interrupted or because resection has resulted in more marked asymmetry. Moreover, overresection can result in a narrow dysfunctional nostril opening that is difficult, if not impossible, to correct. In other words, when alar base reduction is done incorrectly, a patient can lose the natural curve to the nostril and be left with a very triangular look (think Michael Jackson or Latoya Jackson).
Finesse rhinoplasty is the ideal technique for patients who desire or need the most subtle refinements. In many cases, family and friends tell them they do not need surgery at all. However, even "small" deformities may be a genuine source of concern for many people. Most people have attractive noses but wish to get even closer to their ideal nose. In these cases, we perform the very subtle changes that necessitate our most precise understanding of facial aesthetics and adept surgical control.
At Profiles, we work closely with each and every one of our patients to ensure they receive the results they have been longing for. Thanks to our years of experience, we minimize risks while also reducing downtime.
Pain and discomfort during the recovery period
Difficulty breathing until the swelling recedes
Skin discoloration
Change in skin sensation
Scarring
Small chance of infection and poor wound healing
Rhinoplasty surgery can significantly improve the appearance of your nose, but there are some risks associated with this procedure. Some of the potential risks and temporary side effects of a rhinoplasty include:
We believe one thing is clear: nothing has a greater impact on how a person looks than the size and shape of their nose. Because the nose is the most defining central characteristic of the face, a slight alteration can greatly improve your appearance.
Drs. Litner and Solieman are double board-certified facial plastic surgeons, providing you with the highest level of training and expertise. They understand that good communication is essential in the planning of your rhinoplasty. Skin type, ethnic background, and age are important factors to consider in discussions with Drs. Solieman and Litner prior to surgery. The PROFILES Beverly Hills website allows you to read up on the techniques that most specifically address your particular concerns. To learn if you are an ideal candidate for rhinoplasty, contact PROFILES Beverly Hills in Los Angeles today.
Functional Rhinoplasty to Improve Breathing
If you have trouble breathing through your nose, it is important to let the nasal experts- Drs. Litner and Solieman- do a thorough evaluation. Nasal obstruction is a complicated issue that is all too often ignored, attributed to "allergies or sinuses," or to a "deviated septum."
Oftentimes, our PROFILES Los Angeles doctors find that the diagnosis previously given to patients for their breathing problems does not fully account for all findings. In fact, reports suggest that 20%-30% of patients who undergo septoplasty find that their breathing symptoms are not adequately corrected. The complexity of this problem is one of the reasons that Drs. Litner and Solieman, both Double Board Certified Facial Plastic Surgeons, have devoted so much of their training and research to the proper diagnosis and treatment of these problems.
Click here to learn more.
In many ways, the very challenging correction of the twisted nose can be viewed as the final step in the mastery of rhinoplasty. It challenges the great surgeon to restore the various deformities present using a detailed understanding of both cosmetic rhinoplasty and functional reconstruction. Reconstructive rhinoplasty provides optimal aesthetics in these cases because it not only allows us to make your nose look straighter but also to restore the underlying framework to its normal pre- injury positions. This approach is balanced and allows us to address each cosmetic concern while maintaining and maximizing long-term support and function. Click on the links below to learn more:
The short answer is no.
The typical rhinoplasty done in the 1980's or even 1990's relied heavily on reduction of prominent cartilage and bone to achieve a more refined look. Knowledge of the long-term effects of such techniques was spotty and, so, many unfortunate patients were left with the trademark 'operated' appearance of a pinched, droopy, or distorted tip, and scooped-out nasal bridge.
These occurred because the newly-weakened structural elements of the nose could no longer provide the necessary support, often leading to breathing trouble. The forces of healing are dynamic and often operate for several years before these outcomes are evident. So, a postoperative result may look great immediately after surgery, yet evolve into a dismal failure over time. Likewise, collapse of the nose's structural supports will compromise the basic function of the nose, namely breathing.
Modern thoughts on rhinoplasty take a much more conservationist approach. As much as possible, reshaping and contouring are achieved with suture and graft techniques that will usually leave the nose 'stronger' than it was preoperatively. While many surgeons think of nasal breathing more as an afterthought, those who have an interest and experience in rhinoplasty will assign as much importance to nasal function as to aesthetics. The result, at Profiles Beverly Hills, is that once short-term swelling is resolved, your breathing should be as good or better than before and the changes to your nose should remain 'stable' for a lifetime.
This example shows a man who had undergone Rhinoplasty twice in his home country many years previously. His nose changed over time, leaving him with a feminized pinched tip and severe nasal breathing problems. On breathing deeply through his nose, his nostrils collapsed completely into tiny slits. During his Beverly Hills Revision Rhinoplasty, he had multiple grafts placed including batten grafts, spreader grafts, and a tip graft to achieve significant improvement in his breathing and restoration of the nose he had wanted originally, as shown in this 1 year postoperative photo on the right.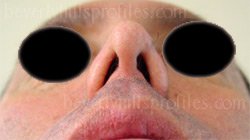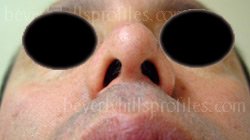 We see many patients who had wanted a pretty, small, feminine nose and ended up with a pinched tip, nasal collapse, and breathing problems. We often enter into a lengthy discussion regarding what would need to be done during a revision surgery to correct both their breathing concerns and improve any aesthetic issues. Often, these two overwhelming concerns are aligned. That is, whatever must be done to improve breathing (usually involving grafts) would also tend to make your nose look better. On the other hand, sometimes these concerns may work against each other. For example, improving breathing might involve having to widen or enlarge your nose slightly at the bridge (with spreader grafts) or the tip (with tip or batten grafts), something we need to take into account when we consider nasal aesthetics.
Most people, when we show them how widening their noses slightly would appear on computer imaging, are quite happy with the idea. They feel that the new image looks more natural and returns them closer to the nose they had wanted originally. But, some patients who had rhinoplasty many years ago or when they were very young may have lived with the look and feel of their current noses for so long that it is all they remember. They may not report more than minor breathing problems even though significant nasal obstruction is evident on examination. Their current level of nasal breathing is all that they know. These patients are often pleasantly surprised after revision rhinoplasty because they never knew they could breathe so well. Likewise, while most patients are horrified with a pinched and shortened nose, a minority of patients may have learned to incorporate this look into their body images. So, they may not be too interested in the idea of widening or lengthening their noses. This is usually not an issue for men who can tolerate a stronger nose.
Our challenge is to find the happy medium here to create a nose that looks good for you and through which you can breathe. It wouldn't make any sense to give you a narrowed, refined, ultra-feminine nose if you can't breathe through it. Similarly, when we must reconstruct and widen your nose to improve its function, we need to thin and tailor our grafts so that they also enhance your nasal aesthetics or, at the very least, have no negative impact. Again, it makes no sense to us to have you breathing perfectly through a big, overbearing nose that dominates your other features. Finding balance and restoring harmony is the key that, with careful consideration and planning, can be achieved.
Nasal Allergies, whether seasonal or year-round, generally are not a factor in rhinoplasty. If you experience nasal allergy symptoms, you should be thoroughly evaluated to see if there are any other factors that may exacerbate your breathing problems- such as a deviated septum or enlarged turbinates. If these problems are also present they should be addressed during your rhinoplasty.
Otherwise we find that in general patients have a period of reprieve from their allergy symptoms following surgery. We do counsel our patients not to blow their nose for about 2 weeks after surgery and also to keep your mouth open if you have to sneeze. Overall, there should be no reason why your allergies should affect your surgery with us.
Finding the Best Nose Job Surgeons in Los Angeles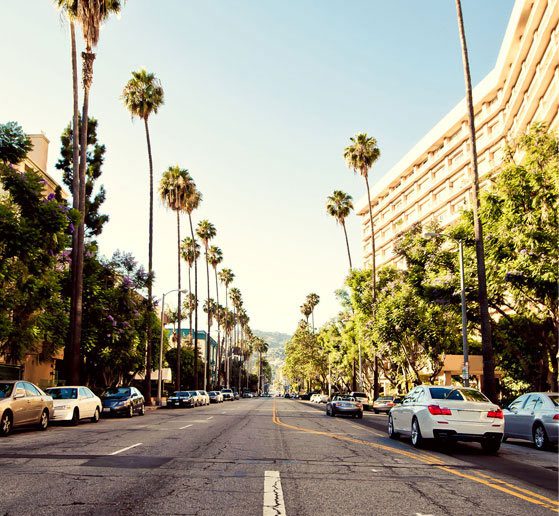 Are you considering cosmetic surgery to change the shape or appearance of the nose? Or, have you already made the decision to have a nose job (rhinoplasty) and would like to consult a specialist or find the right cosmetic surgeon? In a large city such as Los Angeles, choosing the right plastic surgeon for a nose job can be daunting. At Profiles Beverly Hills, we suggest you carefully consider important criteria—ranging from a surgeon's training to patient testimonials — when searching for a rhinoplasty surgeon.
You should ask the following questions:
What is the cosmetic surgeon's medical training?
Is the surgeon board certified?
Is the surgeon a rhinoplasty specialist?
Has the surgeon contributed to professional, peer-reviewed publications or authored books related to the field of cosmetic surgery?
Has the surgeon held any academic positions?
Can the surgeon provide patient testimonials or an impressive gallery of before and after photos?
Does the doctor have a low revision rate?
Does the surgeon adequately answer your questions in a consultation?
The first, and perhaps most important, consideration when deciding on a cosmetic surgeon is whether the he or she is board certified physician and specializes in nose job surgery. Many cosmetic surgeons have excellent academic and medical training and are board certified, however not all have extensive experience with rhinoplasty or revision rhinoplasty. Finding a specialist in that area will ensure that you will work with a surgeon who has focused on the procedure and, as a result, has seen and treated a variety of cases.
Why Choose Us?

Experience and Expertise
Drs. Litner and Solieman trained separately with world experts in rhinoplasty and revision rhinoplasty, and their combined years of experience and patient follow-up ensure that your great results will stand the test of time. They know what works and what does not and will only use techniques that produce predictable and stable results for a lifetime.
Not only have our doctors published and taught extensively on the latest techniques in rhinoplasty and revision rhinoplasty, but they also combine that knowledge with the technical skill needed to achieve your goals. In fact, they are often the surgeons' choice for rhinoplasty referral.

Caring and Comfort
At PROFILES Beverly Hills we treat every rhinoplasty patient as a top priority. That means we will make sure to listen to you, answer your questions, and arrive at a surgical plan that is right for you. Once a surgical plan has been confirmed, both surgeons will apply their expertise to make those goals a reality. Furthermore, we do not disappear after the procedure. You will see our doctors at each and every post-operative visit to make sure that you obtain the results you want.
In addition to treating each patient with the utmost care, we keep downtime to a minimum. We typically use nasal packing and many of our patients require almost no pain medication after rhinoplasty. Careful work by our doctors results in quick recovery and less swelling.

Personalized Commitment
Unlike many surgeons, we never take a 'cookie-cutter' approach to rhinoplasty. Because our surgeons have extensive expertise, they choose the best tools to fit your situation. At PROFILES Beverly Hills we start with your vision for your new nose and adapt our techniques to bring that vision to life. The result is a balanced and beautiful nose that completely matches your features.
We recognize that trusting anyone with your nose is a big step, therefore we return that assurance by committing to your happiness. We follow your case for years after surgery to make sure you remain happy with your results. It is that enduring commitment that continues to keep our personal revision rates at close to zero.
FAQs
How Common are Rhinoplasty Complications?

Like all other surgical procedures, rhinoplasty carries a certain risk. Besides the potential side effects of anesthesia, you may also experience temporary swelling and other symptoms. However, severe side effects and complications are relatively uncommon. The best way to improve your chances of success is to work with a team of double board-certified plastic surgeons.

What are the Restrictions After Rhinoplasty?

For the first few days after the surgery, patients need to rest with their heads in an elevated position. After a week, the nasal dressings and splints are removed, but you cannot partake in any physical activity until 3 to 4 weeks after surgery. It is important to note that all patients are different, so Dr. Litner and Dr. Soleiman examine each patient and develop a custom recovery plan which they discuss prior to and after the procedure.

How Painful is Rhinoplasty Recovery?

Rhinoplasty recovery patients may experience mild to moderate discomfort, depending on the technique used and the complexity of the procedure. The pain is usually treated through over the counter oral analgesics and prescription medication depending on its intensity. It is important to note that pain and discomfort usually start receding after a few days, but this may vary depending on each patient.

Can Rhinoplasty Help Sinus Problems?

In many cases, improving the shape of the nose can also help alleviate sinus problems and result in clearer breathing. Furthermore, enlarged turbinates, soft nasal cartilage, and deviated septums can be addressed with a rhinoplasty or a combination of a nose job and a septoplasty.

Do Nose Jobs Last Forever?

As long as it is performed by an experienced, double board-certified plastic surgeon, the results attained through a nose job should last a lifetime. Seasoned surgeons can make significant changes to the structure of your nose while maintaining natural results. However, you should always note that swelling and scarring gradually diminish for up to a year after the procedure.
SCHEDULE A VIRTUAL
CONSULTATION VIA SKYPE
Available Nights & Weekends
Read More >